COVID-19 - Is your business ready for Work From Home arrangements?


Email and Telecommuting Solutions available from SGD 7 per month
Click here to find out more.
Secure your domain name with us, and "park" it on our servers indefinitely.
24/7/365 Access to your website and emails on Windows and Linux servers. 
Optimize your WordPress hosting with our WordPress SiteCare packages.
Microsoft Software Rental

Avoid heavy upfront costs of purchasing and upgrading Microsoft software. 
1U to Full Rack Space available at our Tier 2 Datacenter located near CBD.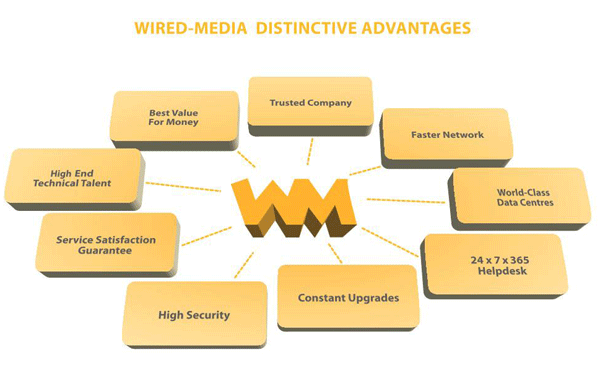 WIRED-MEDIA is your one-stop business solutions partner, delivering the power of the Internet to customers and providing total solutions for critical business needs since 1996.  Customers enjoy the peace of mind that comes from the 24 x 7 x 365 phone and technical support, state-of-the-art data center, world-class robust infrastructure and hosting, with up to 99.9% uptime.  We have a team of certified technical experts providing you with IT business solutions, ensuring innovation, creativity and customer care to meet your critical business needs.
We choose to partner with world-class ISP. We spend the time to listen to our customers, ensuring our products and services solve their business needs and are always at the forefront and leading edge.
Our network and data centers are built with reliability, security, and speed in mind. We continuously upgrade our systems, using leading-edge solutions to deliver at our peak performance.
We respond to our customers' technical needs quickly and effectively 24 x 7 x 365 and we resolve and documented thousands of technical questions by e-mail or by phone.
We are one of the pioneers in the IT outsourcing arena and we possess a wealth of knowledge, expertise and strong infrastructure to manage the most complex business requirements.
"My experience with Wired-Media has been terrific. They truly understood our IT needs and provided us with the necessary IT solutions, helping our IT processes to be more streamlined, more organized and most importantly highly secured and managed by their in-house technical talents."
David Wong
IT Manager
Novotel Clarke Quay Singapore
"We view Wired-Media more like an IT partner, supporting our IT department, rather than just a vendor. Their IT consultants listen to our needs and only recommended what was necessary for our business. We had a wonderful working relationship and will continue our 'partnership' with Wired-Media as we grow our business."
Anudit Kumar Verma
Software Engineer
Clearpack Singapore Pte Ltd
"We have always been impressed with Wired-Media's capabilities of producing the most user-friendly interfaces for the development of our corporate website and the World Chinese Business Network. Wired-Media has also proven, time and again, to be an absolutely reliable and professional IT solutions provider, giving us the best yet affordable services, and enabling us to carry out the many areas of the Chamber's work effortlessly and efficiently."
Fiona Hu
Senior Director (Research & Publications)
Singapore Chinese Chamber of Commerce & Industry